Sustainability
Reports and
Statements
Sustainability Reports
Sustainability Report 2022
Download
Sustainability Report 2021
Download
Sustainability Report 2020
Download
Sustainability Report 2019
Download
Sustainability Report 2018
Download
Sustainability Report 2017
Download
Quality, Environmental, Safety and Health (QESH) Policy Statement
Download
Statements
Sustainability Statement
Download
Human Rights Policy
Download
Biodiversity Statement
Download
Climate Change Statement
Download
Quality, Environmental, Safety and Health (QESH) Policy Statement
Download
AR2020 MRCB Green Building Credentials
Download
Quality, Environmental, Safety and Health (QESH) Policy Statement
Download
UNGC Communication of Progress
UNGC Communication of Progress 2021
Download
Quality, Environmental, Safety and Health (QESH) Policy Statement
Download
Adhering to Global Standards
MRCB is a constituent of the FTSE4Good Index. This index series encompasses companies that adhere to environmental, social and governance (ESG) criteria that are administered by the Financial Times Stock Exchange - Russell Group (FTSE).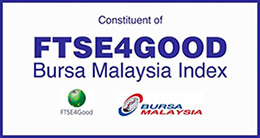 Yayasan MRCB
The MRCB Foundation is focused on areas relating to children and the underprivileged, striving to identify programmes that will improve their quality of life.
For further information and enquiries, please contact us at:
Find Out More About Us
Have a question you need answered? Feel free to contact us here.